Home
Welcome on the "European Club of Pediatric Burns Workshop 2015" web site
from 24th to 26th of June 2015 in Lyon, France
The European Club For Pediatric Burns, created in 1991, has for purpose prevention, improvement of treatment, rehabilitation and reinsertion of burned children. These workshops gather every year a hundred of professionals for high-leveled scientific works, stimulating exchanges and constructive meetings.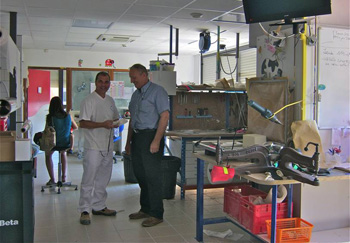 The Lyon hospitals has a long tradition of investment in burn treatment. Indeed, it is the first city in continental Europe to be equipped with an identified burns victim center, at the instigation of Pierre Colson in 1951. Since then, the care network has developed. It gathers a pre-hospital caring network, two acute burns centers in St Luc and in the Hospices Civils de Lyon, a Skin Substitutes Laboratory (Dr Damour), a rehabilitation center for adults (St Foy l'Argentière), a rehabilitation center for children (Romans Ferrari) and the hydrotherapeutic cure of St Gervais. We organized the EBA and SFETB congresses in 2001, and the SFETB congress in 2010. It is our pleasure to prepare your arrival again.
Lyon, a 1.3 million inhabitants dynamic city, is a UNESCO classed site for its exceptional human occupation vestiges dating back from roman history to nowadays, including Renaissance. Its gastronomic reputation, its welcoming qualities, its cultural wealth make this city a chosen destination as much as for work as for tourism.
The congress and accommodation are gathered in the same venue, "Domaine Saint Joseph", former seminary located 10 km from Lyon. We stay at your disposal for any further information and hope to meet you for constructive and convivial exchanges.
Prof. Fabienne Braye
For the Organization Committe